09/29/2012 - Level 5 Worlds Team
We've had great turnouts at our FREE OPEN gym's for our 2013 WORLD's TEAM and some amazing talent. Due to the level of interest we have decided to schedule TRYOUTS as follows. All candidates MUST PARTICIPATE and DEMONSTRATE their skills on ONE of the following dates and times.
Last Open Gym/Tryout for our Coed Level 5 Team Wednesday Feb 6th at 6:30 before Choreography. Registration and Waiver Form Required.
Please email us at usallstars@aol.com or Call us at 708.532.6506 Spots will be limited to 20 so call or email us now if you have any questions.

Choreography has been scheduled for February 9-10 with Maryland Twister Coaches.

DETAILS Available at the gym including costs, practice schedule, and competitions.
*Senior Level 5 Athletes are ages 12-18 with tumbling skills of a standing back tuck and a running full or more.
---
08/12/2012 - Car Wash and Picnic
A note from Mrs. Stec
Oh My Gosh!! Where do I begin?
THANK YOU to all of you for making the Allstar Athletics Car Wash/Picnic such an amazing success!
Everyone was soooo great at pitching in.
Parents thank you for all being there to handle whatever needed to be handled all thru the day. A "special" thank you to Mr. Bautista who brought his grill and handled all the barbequing.
Coaches you did a fantastic job at organizing and making sure all the details were being covered to keep things running smoothly. BUT especially "Thank You" for taking pie after pie in the face. I am sure you will never be able to look at whip cream in the same way ever again! We love you.
A quick thank you to Coach Jason for all your effort to "make it happen". I will never be able to look at red spankies without a giggle or two.
I want to give a special shout out to one of our alumni Bronte Oliver for her kitchen help. Thank you and we miss you at practices.
Finally, I want to tell all our team members – I am so impressed with how well you all came together for the day and worked so hard at the car wash and with the carnival games. You are all such wonderful team players. If this was any indication of the team spirit we have then our season will be a huge success no questions about it!
For those who were unable to attend or had to leave early "We missed you!" but there are plenty of desserts to enjoy at practices this week.
So now I just want you to let me know what was one of your "most liked" parts of the picnic? Was it the games, jumpy, henna tattoo or maybe the tarantella spider? If it was the pie fight – I think that was going to be a once in a lifetime experience event at Allstar Athletics (the coaches have pretty much declared that. Does anyone have a recipe for slime?).
Photos So let me hear from you! What was the "most liked"? Post your comments on our
---
10/16/2010 - iPromise Pledge
iPromise was developed by a subcommittee of the USASF National Advisory Board. iPromise is co-supported by the Parent's Action Committee, NCSSE and AACCA. The pledge can be taken by all participants of cheerleading and dance. Taking the pledge shows that individual supports a better cheerleading and dance community through mutual respect and appreciation.

The mission of the USASF (U.S. All Star Federation) is to maximize the number of participants benefiting from the positive life experiences of all star cheerleading and dance by developing competition rules and all star gym training guidelines consistent with the latest best known safety, educational, and ethical practices.

Allstar Athletics is an active member of USASF and proud to support the iPromise initiative. We asked Team Members, Coaches, and Parents to take the iPromise pledge and sign the posters in our gym.
Coach iPromise Parent iPromise Athlete iPromise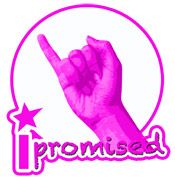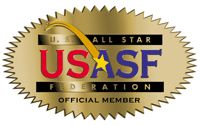 ---